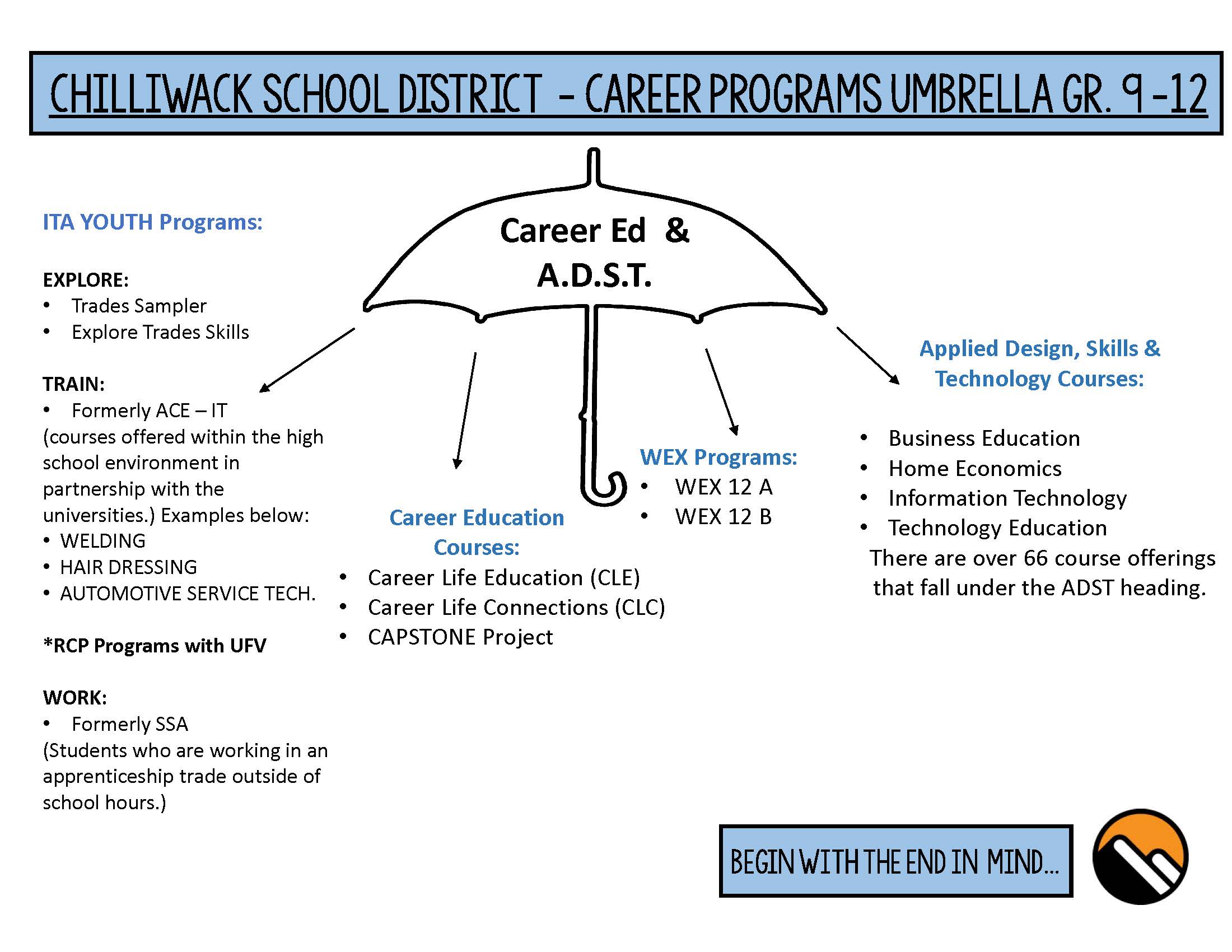 A.D.S.T. K-12
The ability to design, make, acquire and apply skills and technologies is important in the world today, and key in the education of citizens for the future.  In the ADST curriculum, students grow through the use of design-thinking principles.  This approach helps them gain understanding of how to apply their skills to both finding challenges and solving them in creative ways, using appropriate technologies for the task at-hand.
Click here to learn more about ADST curriculum.
Career Education K-12
The Career Education curriculum supports students in becoming successful, educated citizens by helping them learn how to effectively manage their life journey toward preferred future possibilities.  This area of learning requires students to identify & develop their personal interests, passions and competencies.  Students reflect on learning experiences in school and community, build confidence through their contributions, and explore multiple career-life roles and choices.  The curriculum fosters lifelong learning, beginning in Kindergarten and continuing through to graduation and beyond.
Click here to learn more about our Career Education curriculum.
Work Experience Program
The SD33 Work Experience program has been in operation for over 30 years and places over 1000 students each year.  We are committed to providing practical learning opportunities for our secondary school students.  Work Experience is intended to prepare students for the transition from high school to the world of work or future training and education.  Work Experience allows students to connect what they learn in the classroom with the skills and knowledge needed in the workplace and society.
Students will use Work Experience to explore careers, to earn credits toward graduation, and to apply for community bursaries and scholarships.  Work Experience also helps young people build a strong network of community contacts and references.
Click here to learn more about our elective Work Experience courses (WEX12A and WEX12B).
ITA Youth Trades Programs
Over the last 25 years, the SD33 Trades Program has registered over 2000 apprentices with the Industry Training Authority (ITA).  There are over 100 different trades to choose...from Carpenter to Hairstylist, from Cook to Welder, and many more!  Visit www.itabc.ca to learn more!
Click here to learn more about the Youth Work in Trades program.
Click here to learn more about Youth Train in Trades programs.
---